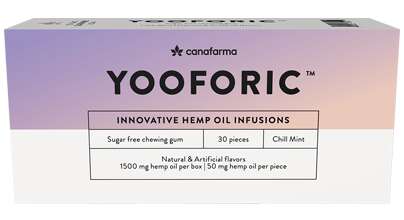 YOOFORIC, a wellness label that creates full-spectrum CBD-infused products, offers hemp oil chewing gum that can be purchase in either 10-piece or 30-piece packs.
As the company claims, its gum has the "best absorption rate on the market," and can help to reduce feelings of anxiety, improve oral health, cognitive function, and memory. Each piece of gum contains 50mg of help oil, and boasts a long-lasting mint flavor that freshens breath. With less than 0.1 percent THC, the gum won't cause users to get any sort of high that's associated with cannabis products.
YOOFORIC's hemp oil chewing gum is available for purchase from its web store, where its 10 and 30-peice packs retail for $35 and $65.
Image Credit: YOOFORIC