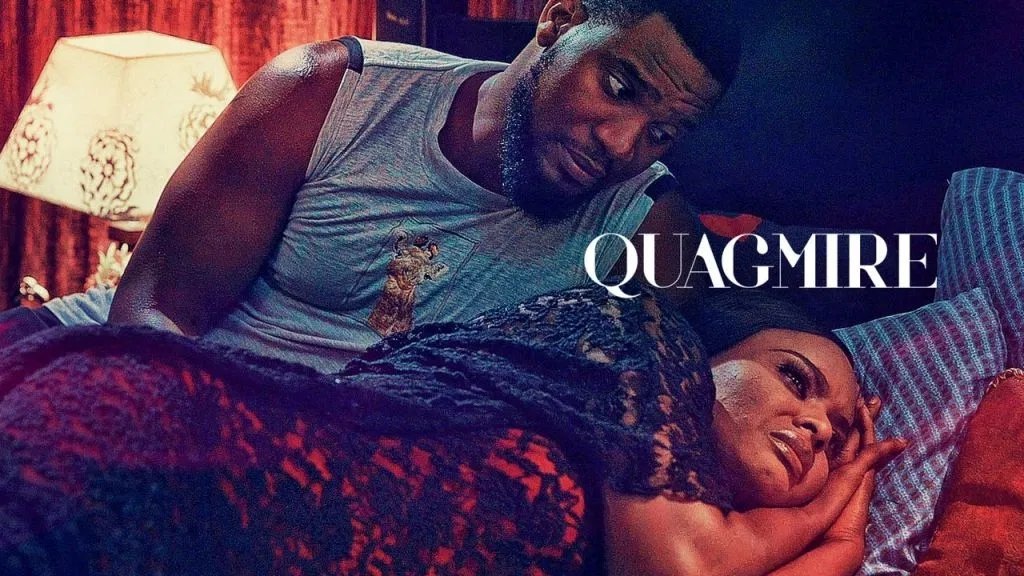 Have you ever found yourself praying like a sele warrior for the characters in the movie that you are watching? That's the power of great writing. We can't really get into the matters at hand in this movie without this… so here's the obligatory spoiler alert –
THIS REVIEW MAY CONTAIN MILD SPOILERS FROM THIS POINT ON
Quagmire starts off with a premise that we are used to – a young couple that has been married many years without a child and a mother-in-law who is much too eager to welcome a grandchild (even though its a bit perplexing in this case, seeing as she claims to already have a grandchild from all her other four children). But even though the initial premise is familiar, the rest of it is quite a different feeling. After weeks or months of straining the relationship with her sorrow, Foyekemi (Matilda Obaseki) decides to spice up her relationship with her husband, Kolade (Kunle Remi) and invites home a sexy dancer for a night of 'safe fun'. Somewhere between the music, the drugs and the alcohol, the unplanned happens and our young dancer, Jane (Dior Adiele), gets pregnant. And how the couple chooses to deal with it is what takes this from being an okay movie to a good movie.
But what takes this good movie from good to great really is the writing. The movie runs for a little more than two hours which seems like a long time but every second of it is worth its weight in film (or gold even). There are many impressive bits about this film from the shots, the locations, the music etc but the most impressive of them all are the characters. Many times, nollywood films get caught up in the message that they are trying to send and they end up using generic formulas and unrealistically good or bad characters to get to their end, but not quagmire.
Take for instance the character of Foyekemi. Foyekemi is possibly one of the better fleshed out nollywood characters you have seen in months if not years. She is a good person but she is not a saint. She breaks down. She ruins her own relationship. She is selfish. She is emotional but she is also strong, she loves fiercely, and she tries to do better. When she can't have a child, she weeps. When her husband doesn't get her pain, she is distanced from him. When she sees him with another woman, she jumps into conclusions. When the other woman comes home, she cautiously dislikes her. But when her heart needs to show up, it shows up and it shows out. The writer puts in the work to truly develop the characters of not just Foye, but also Kolade and Jane and even Alero – the street-wise friend to Jane, so that by the time the end rolls around there is a solid investment between the audience and the people on screen.
And the actors were the perfect support to this writer. The praise for Foye is inextricably attached to praise for Matilda because it takes great acting for the persona of the character to shine forth. In the scenes where she is first meeting a pregnant Jane, as she sits on that bed, you can sense the conflict within her. On the one hand she clearly empathizes with Jane, but on the other hand she is struggling to also protect her interest. Matilda does a brilliant job balancing emotions with this character. And then there is Kunle as Kolade. Hats off to him for letting the character shine through him. For not being Kunle but being Kolade so that the audience can appreciate the relationship between this couple. In the moments when he holds back instead of 'reacting' to Foye he really helps you to realize that some people are meant for each other because they balance each other's craze.
And finally, there is the discovery that is Dior Adiele. Striking that fine balance between giving us Diana Yekini looks with the original Ini Edo energy, Dior is easy to love and easy to root for. She settles right in in front of the camera. She is believable and she is lovable. And all these three together make Quagmire quite unforgettable.
The directing in this movie is also quite pristine. That dance scene will always come to mind when thinking of this film because of the fitting ambiance that was created, the lighting was perfect and the choreography of the scene was just right for a scene that would become pivotal to events that happen after. Quagmire is a long watch but once you hit play it will be hard to come out. This is that original Biodun Stephen effect. It's how a story can be intimate with very few characters but not leave any part of you wanting more.
[embedded content]